Take The Franciscan Challenge This Christmas!
I believe having a Franciscan Heart is the key to a life with God. What is a Franciscan Heart? It's a way of living life with joy, seeing the good in everyone and accepting all people without judgment. A Franciscan Heart captures the spirit and joy of St. Francis. Having a Franciscan Heart is also about making the world a better place to live. You have a Franciscan Heart when you help the Friars extend Christs' presence through your generosity to The Franciscan Challenge.  If 600 people give a minimum gift of $50 to the Franciscan Challenge, we will reach our goal of $30,000. This will help us to educate our young Friars for ministry, continue to care for the poor who come to us each day, and to care for our elderly and sick Friars.  Please, help us with your generosity to bring healing and help to our world which desperately needs more Franciscan Hearts! You can also Make A Pledge!
EDUCATING YOUNG FRIARS
If you believe in the distinctiveness of the Franciscan spirit, help us insure our continued ministry by assisting us in educating the young men who are coming to us with Franciscan vocations. They will be the Franciscan presence in the future church as they continue the all-accepting, joyful spirit of St. Francis. As we see our church struggling with so many issues today we need educated young Friars who will be able to bring the gospel to a rapidly changing world. Your gift will help a young man hear God's call to Franciscan fraternity and ministry.
CARE FOR THE POOR
"The Lord hears the cry of the poor," and blesses those who care for them. We need your help to continue our work with those who suffer from the obstacles of poverty, hunger, homelessness and mental illness. Our Friars serve over 2 million children, women and men on the East Coast of the USA each year with medical assistance, food, diapers, formula, drug counseling and shelter. We need your help to continue our work. As St. Francis said, "Start by doing what's necessary; then do what's possible; and suddenly you are doing the impossible!"  If 600 people give a minimum gift of $50 to the Franciscan Challenge, we will reach our goal!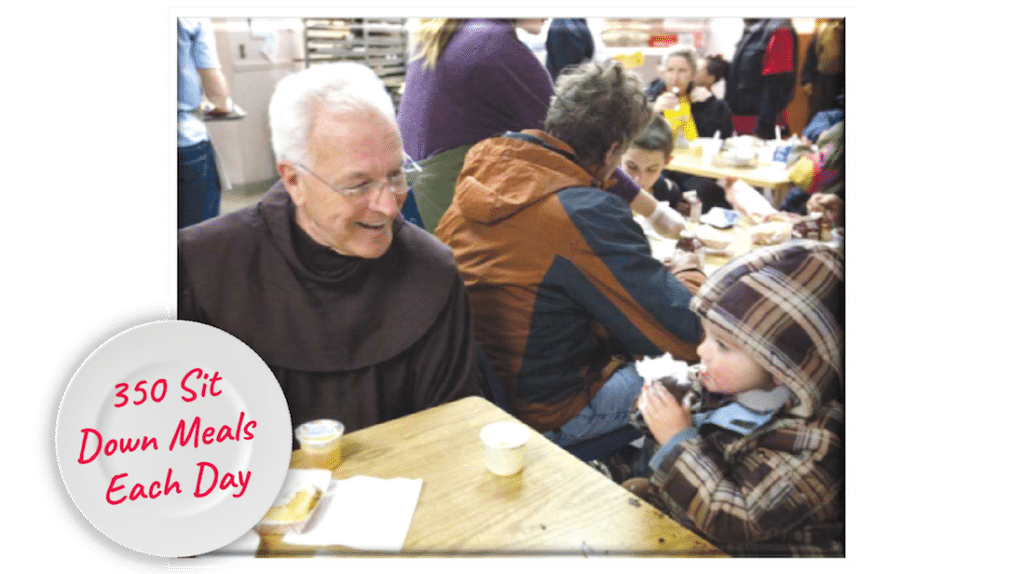 St. Francis Inn, Philadelphia
We've been serving over 350 restaurant style meals each day to families, young children, the homeless and those struggling to find a place to rest since 1979.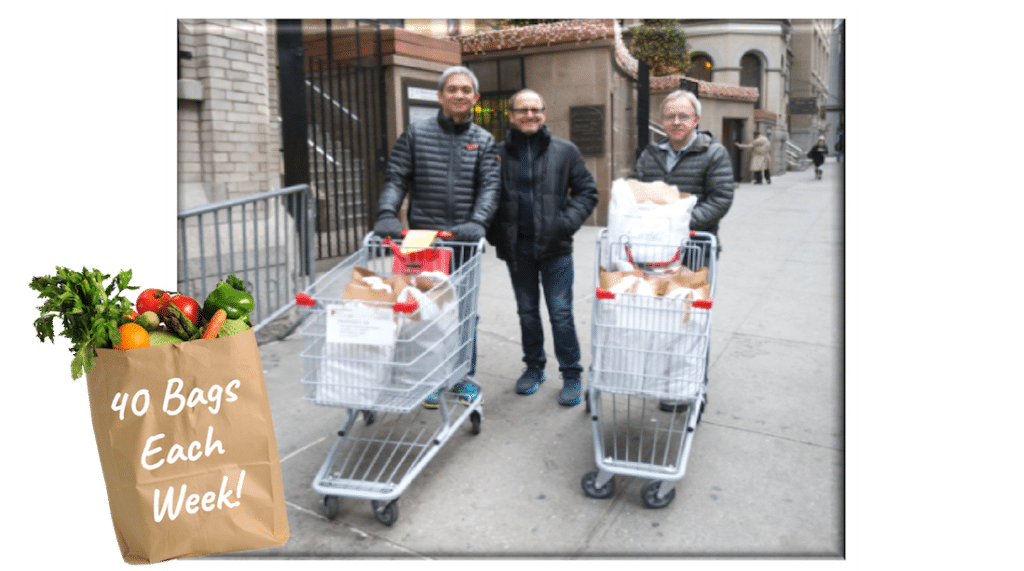 Franciscans Deliver, New York City
We are a service to the poor, elderly, blind and shut-ins. Each week our members choose the grocery items they want, and our volunteers deliver them to their door.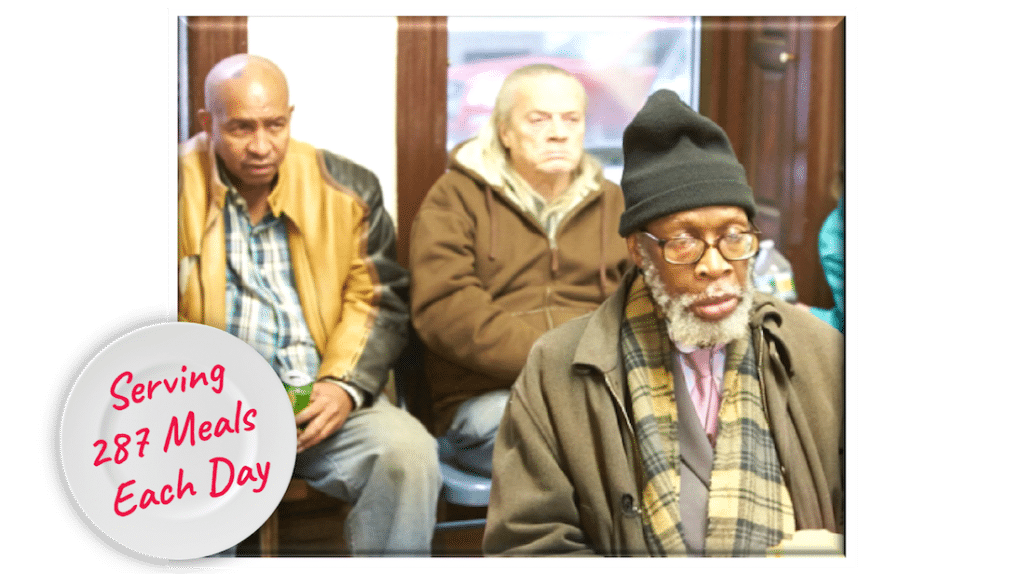 St. Francis Residences, New York City
Our 3 Residences in NYC have provided shelter and care for 287 formerly homeless, mentally disabled and emotionally abused residents for over 35 years.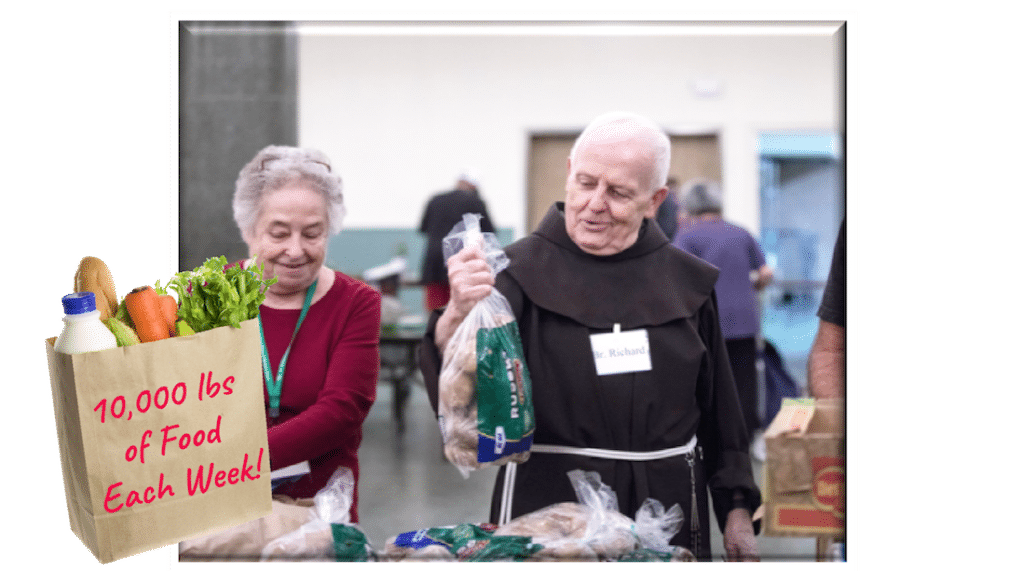 Franciscan Food Center
As the largest food center in downtown Boston, we serve over 25,000 people weekly. Many are poverty-stricken, physically or mentally disabled, or simply stuggling families.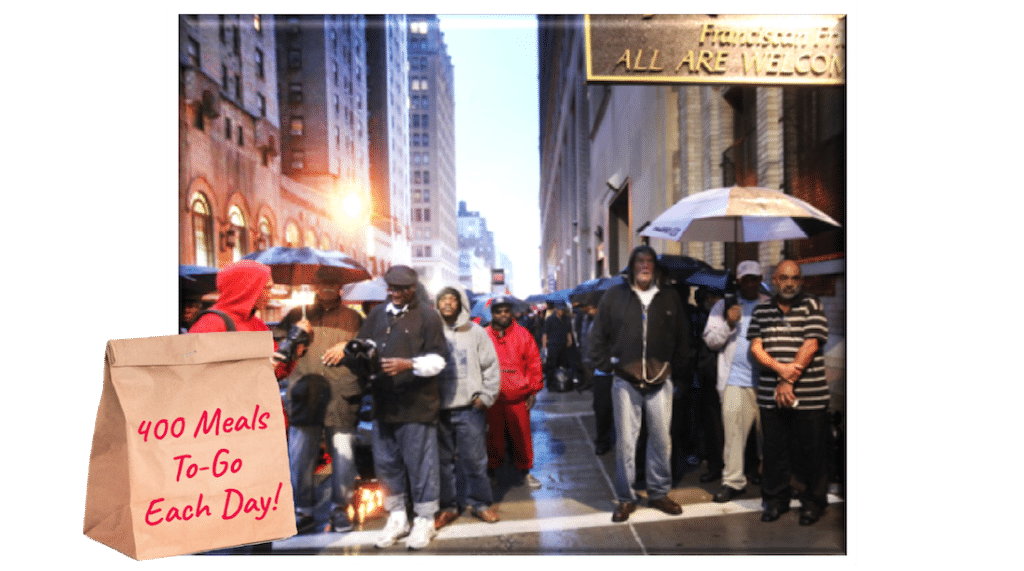 St. Francis Breadline, New York City
Serving 250 sandwiches, hot cups of coffee and slices of cake to the homeless, disabled, veterans or those just struggling to make ends meet daily since 1930.
AFFECTION FOR ELDERLY FRIARS
Appreciation for hard work is strong Christian value. Many of sick and elderly Friars have devoted their lives to building the parishes and other various ministries in which the Franciscan Friars are still very much present. We would not be in these places without the hard work of our older brother Friars. They cared for you by building up these wonderful ministries, and now they need us to care for them. In appreciation for what we have now, please help us care for our older sick Friars. They cared for us, now we must care for them.
Incorrect slider name. Please make sure to use a valid slider slug.
CALLED TO BE A FRANCISCAN
That word "Franciscan" says so much that it is impossible to capture the spirit of Francis, or those who have followed him for over 800 years, with one word. The word "Franciscan" says so much that it overflows with all the characteristics that make up what people feel, believe, and desire when they hear that sweet word. It goes beyond definition, border, categories, religious orders, or even Catholic. It encompasses all peoples, accepts everyone, inflames deep spirituality, laughs joyfully and inspires compassion endlessly.